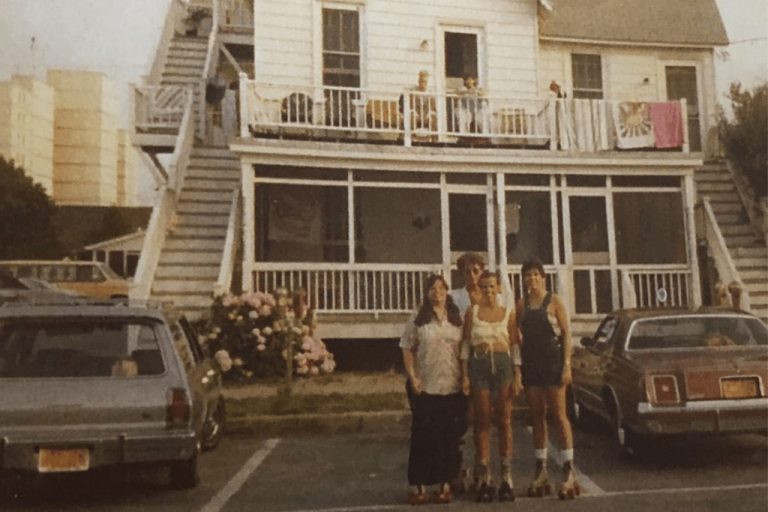 1978 view of the site where the Beachview Hotel was built, courtesy of a guest.
1980 Rehoboth Beach
Rehoboth Beach in 1980 was a summer resort town that drew vacationers from Memorial Weekend to Labor Day weekend. There wasn't much shoulder season business at that time. Shoulder season was before or after the traditional beginning and end of the two summer holidays. Because of this, a design was drawn up with open corridor hallways. Bunting Construction was chosen to be the general contractor and ground breaking took place in the winter of 1980. Six months later the Beach View Hotel was open for business and welcoming guests.
For 35 years now we have worked hard to deliver a unique experience while staying with us at the Beach View. Over the years, the Beach View took on a "feel at home atmosphere" that had guests returning again and again year after year. The summer season began to creep further and further into the spring and fall as the years passed. Today Beach View Hotel opens a week before Easter and closes two weeks before Thanksgiving.
Structurally little has changed with the building as we feel the view from the Wilmington Avenue balconies are such a big part of why our guests love the hotel. Façade improvements have been made to update the look while maintaining our original feel to stay true to what the hotel means to us and our customers.
Changes over the Years
While we want to keep the exterior persona alive, inside our rooms and our lobby have seen some considerable changes over the years. Our original lobby was a space only about twelve feet by twelve feet. We had a live-in manager back then and no breakfast was served. Then in 2010 we expanded the lobby through two retail stores and a back office that were adjacent to the lobby. In 2015 we again expanded the lobby by removing the manager's apartment and a storage room. This allowed us to put in a commercial kitchen, expand our breakfast serving area, add additional seating, and a new guest bathroom.
Our guest room renovations started in 2005 by expanding vanities, building new shelving for towels and guest storage and housing the refrigerator and microwave. New shower walls, entry flooring, and wainscoting were also installed. In 2017, we began the process of redecorating the rooms with a new updated look. Additionally in 2017 we built an entirely new and expanded pool deck to better accommodate our guests that love to sit around the pool on those hot summer days or pleasant fall afternoons.
We are always working to improve our guests experiences so their initial stay with us is the first of many more to come.
Learn more about the history of our family-owned company at our corporate site.